Vertical Band Sealer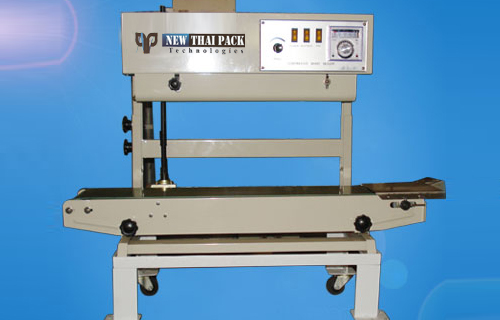 We bring forth a great assortment of Band Sealing Machines , which find extensive usage in sealing different various pre - made pouches. These sealing Machines are suitable sealing equipment for chemical industries, pharmaceuticals, cosmetic, automobiles, food industry, electronic spares packing and seed processing units for online and offline packing of diverse products.
Developed using superior quality factor inputs, these Sealing Machines assure credible performance and high durability. Easy to install and operate, the product has aided our organization in achieving a commendable growth in the domain. The quality controllers recruited in our company assure that all our Band Sealing Machines are manufactured at par with the international quality norms and standards. We have earned great admiration from our clientele by offering them with an impeccable range of Sealing Machines at rock bottom price tags in the domain.
Specifications :
Sealing Speed: 10 mts / min , 7 mts / min
Sealing Property: Any heat sealable laminate
Electrical: 415Volts / 230 Volts AC 50Hz